The love curve team writes their experience at SEARCH
Mr Mihir Shah along with Bhaumik and Gauri visited SEARCH for 3 days in June 2016. They were here exploring the utility of iBreastExam in a rural clinic setting and will it be helpful in a meaningful way.
"During our stay, we trained 3 doctors and 2 social workers at the clinic and screened 75 women. To Dr Rani's surprise, women agreed to be examined by Bhaumik as well. Together, they identified a number of breast lesions, 7 of which were quite small and non-palpable by younger doctors.
On a personal note, I had the privilege of taking a morning walk with Abhay sir and an after-prayer chat session with Rani ma'am. We participated in shramdaan and evening prayers. Met and spent some time with Lakshman Sethuraman as well! The place and the people unequivocally beautiful.
I now consider myself a life-long "Friend of SEARCH" and will do what I can to push it's objectives forward. "
– Mihir Shah
read complete blog here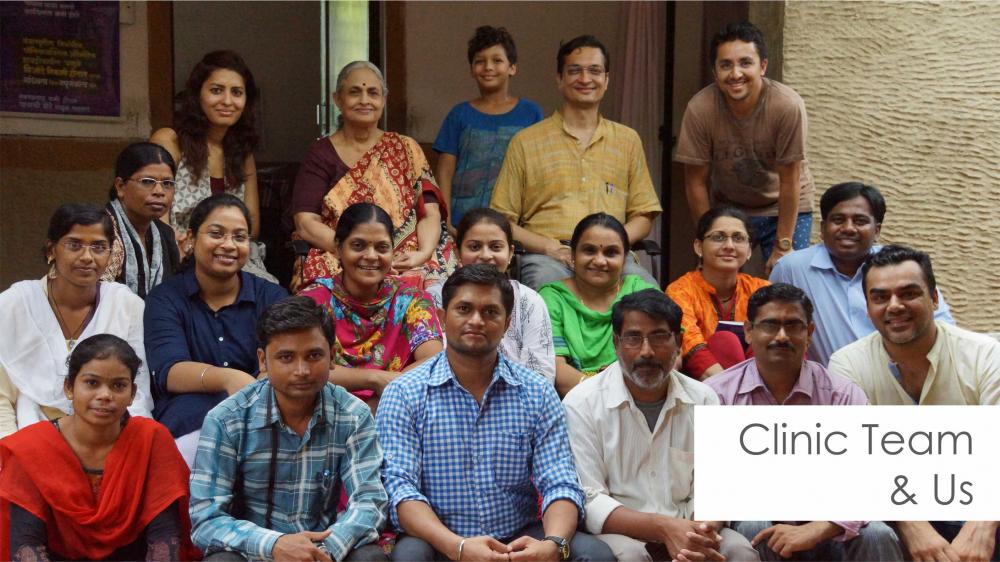 In the December of 2014, Karan Vohra along with fellows and staff of TCTD (Tata Center for Technology and Design) took a trip to Nirman, Gadchiroli, Maharashtra. he writes, "We got an insight into the working of search (Society for Education, Action and Research in Community Health) along with a short stay in one of the villages in the Gadchiroli district."
This travelogue is drawn from the illustrations made and notes taken whilst there.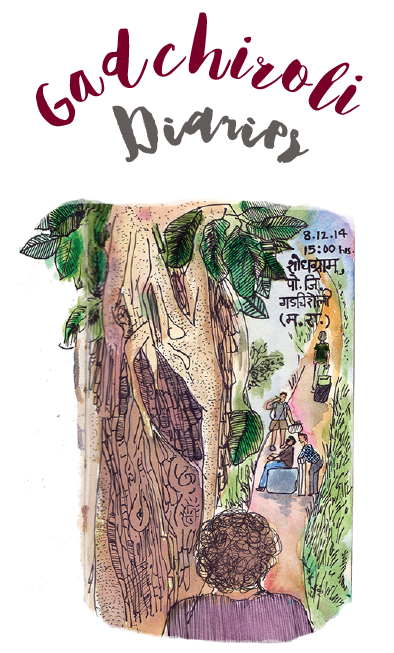 My Internship at SEARCH, Summer 2015
Mallika Snyder
Harvard College '17, A.B. Economics
Few experiences in my life have been as transformative as the five weeks I spent as an intern this summer at the Society for Education, Action, and Research in Community Health in Gadchiroli, Maharashtra. As an economics student with a keen interest in global health and particularly health care in rural communities, I was very excited to have the opportunity to learn from an organisation that has long been at the forefront of work in this field.
The internship surpassed my expectations wonderfully. Soon after arriving at SEARCH, I was able to start work on the research side of my internship, which involved preparing questionnaires for the upcoming SEARCH-Wellcome Trust study on stroke. Simultaneously, I began observing field interventions conducted by SEARCH, including in the Maa Danteshwari hospital at Shodhgram, in villages with the Mobile Medical Unit and the Home-Based Neonatal Care program, and in schools with the De-Addiction team. The research side of my internship allowed me to better understand the complexities of using surveys in social sciences research and the various issues that inform study design. The study's focus on stroke was also indicative of an issue readily apparent in the day-to-day clinical work at SEARCH: the wide-ranging effects of the epidemiological transition in rural India. During morning rounds with Dr Yogesh Kalkonde, my research mentor, meeting an elderly woman with diabetes hospitalized because she could not afford to pay 500 rupees a month for pills was a stark reminder of the potentially crippling impact noncommunicable disease can have on a family, and the importance of the kind of work SEARCH is doing to more fully understand and address these problems.
My experience at SEARCH would not have been the same without the time spent observing the field interventions, not only because they helped me better understand SEARCH's research work, but also because of what they taught me about how global health can be done well. I deeply admire how committed SEARCH workers are to empowering the people that they interact with, whether this involves training a community health worker with little formal education to administer the intramuscular injection that can save her grandson's life or ask a young mother in a village during a malaria awareness rally to demonstrate to the people around her how to put up a mosquito net. SEARCH's extensive data collection and medical records keeping that ensure effective program monitoring and patient follow-up complement this focus on community empowerment beautifully. The success of this approach is brought out in the extraordinarily high quality of care that SEARCH is able to provide to the people it serves, whether this involves administering a long course of antibiotics to a child with osteomyelitis or delivering emergency care to a mother at risk of dying from snakebite. The gynaecological clinic run by Dr Rani Bang is, to me, an excellent example of empowerment through service provision, a place where women who have never known what their white discharge or irregular menstrual cycle might mean are finally able to learn what is wrong and receive care in an environment free of stigma or judgment.
The SEARCH community at Shodhgram is a warm and welcoming family, and I am truly honoured to have been able to learn from a group of people so devoted to helping others. Listening to evening prayers to the thoughtful comments of Drs. Rani and Abhay Bang on the district liquor ban and the chirpy news broadcast of campus children reporting that a snake had been seen by someone's house made me realise how very inclusive this environment is, and how much is learned at Shodhgram from sharing experiences and knowledge with others. I greatly appreciated all the excellent guidance I received from mentors like Dr Abhay Bang, Dr Rani Bang, and Dr Yogesh Kalkonde, as well as the support and encouragement that was provided to me by my internship coordinator Mrs Sindhu Nila. It is this warmth and kindness that permeates the campus at Shodhgram that makes SEARCH such an extraordinary place at which to learn.
Heather A. Gardner
West Hartford, Connecticut
USA
Monday, June 1, 2015
Dear Shodhgram Community,
I hope this letter finds each of you and your families very well.  I am curious about your summer vacations and transition back into activities at Shodhgram.  I now find myself aware of the schedule there, calculating the time change and figuring out whether you might be having tea, working, playing badminton, attending pratana etc.
Personally, I arrived back in the USA on May 17th and have been spending time with family in New York City as well as in the states of Connecticut and Texas.  I have been enjoying cooking, exercise and catching-up with friends & family.  I have also been seriously considering my future plans.
It had been suggested that I write some personal reflections on my experience at Shodhgram and I have shared them below.   I have included my work-specific objectives, outcomes and feedback in a different document.
The word "integration" summarises one of my main motivations to volunteer at SEARCH.  With a long-standing presence in Gadchiroli district, I was drawn to how SEARCH wove together rigorous community health programs, research and clinical practice with Gandhian principles, social change values and community life.  In my experience, this combination of qualities was exceptional and frankly, I wanted to experience (and not simply read about) how the organisation and individual staff implemented and embodied these values & skills.  Throughout my experience, I found that these principles and practices were not simply nice words on a website but rather were reflected throughout SEARCH's staff and leadership.
Although I was involved in various research-related projects, part of the value of my experience came from simply "bearing witness" to various layers of life at SEARCH.  In other words, I wanted to be present for whatever was happening . . .  for example, observing an exchange between a patient and her physician about her lupus medications, listening to a Nirman participant explain her six month plan, shadowing Aruna-tai in Porla while doing home visits, sitting with the mess crew while poori were being prepared, hearing a bhajan in pratana, editing a manuscript or watching a mother comb her daughter's hair.  I also had moments of doubt arise that essentially could be summarised by questions like, "Do I belong here?" and "How is accompanying such activities useful or helpful?"  Frankly, I held these thoughts lightly and instead, intended to settle with exploring whether these simple forms of accompaniment could be enough while of course, contributing in specific ways as well.
From the language barrier to a desire for more fieldwork, challenges also arose (as they do everywhere).  It supported me to not have a rigid outlook on challenges but instead to gradually transform them into opportunities. I do not mean to negate my honest experience of occasional difficulties.  However, often challenges gradually opened-up as tremendous opportunities to grow, learn and be creative.  Through learning some Marathi with a tutor, I developed a new friendship (with my tutor and her husband) and I also had very meaningful and fun exchanges with patients and their family members as well as SEARCH staff.  The interactions with patients also became one way in which fieldwork became readily accessible, while still being at Shodhgram.  Overall, it was curious to discover such rich and positive experiences in the midst of a shrinking challenge.
In summary, I feel a deep satisfaction and joy about my time at Shodhgram.  My only question or doubt is whether I spent enough time there this time around!  I am deeply grateful for all the support (seen and unseen) that I have received both at home and at Shodhgram – without it, this experience would not have come to fruition.  Specifically, I want to thank the SEARCH family for supporting me with room & board during my stay as well as professional guidance and care.
I would love to stay in touch with you and with time, explore how I might return and serve SEARCH again.
Sincerely yours,
Heather