Tribal Friendly Hospital
The hospital, established in 1993 was built after extensive consultations with the local tribal population, is unique in its architecture and ambience. To be responsive to their cultural sensitivities and to make it tribal friendly, the clinic was modelled on a typical tribal home. There is a temple of
Maa Danteshwari
, the supreme Goddess of the tribal Gond at the hospital entrance, whose blessings are essential for the for the healing. The doctors in the hospital avoid wearing "inauspicious" white clothes and the OPD has significant open space with trees where the patients wait their turn sitting below the trees on a platform, exchanging notes with others. Patients admitted are allowed to live with their family members in huts built as per the specifications led down by the local tribals around the indoor facility.Hence the tribal had significant ownership of the hospital naming it as "
Maa Danteshwari Dawakhana
".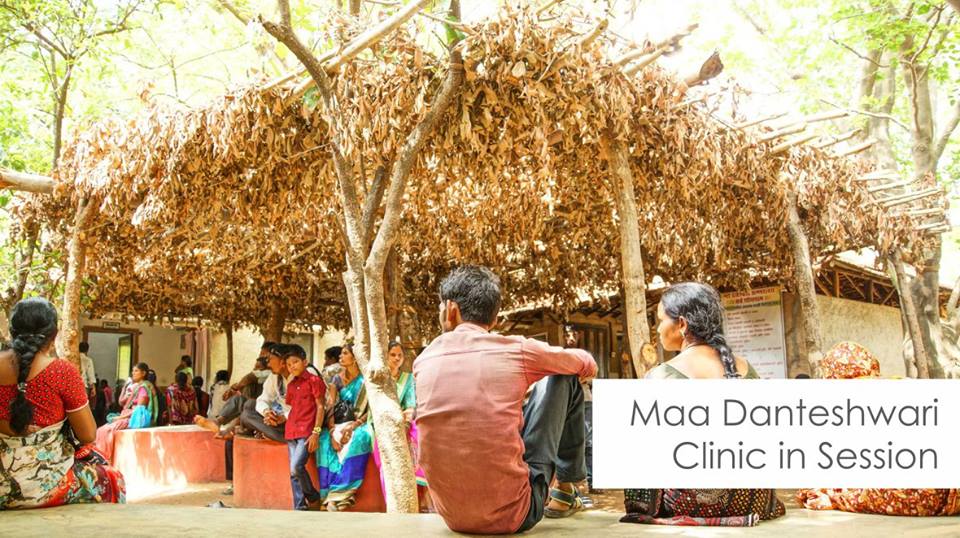 Problem
Coming from humble abodes, the tribals didn't like the huge multi-storied buildings which they found intimidating. White on doctors was unimaginable! Wasn't that the colour to be worn by the dead in their tradition? How can people dressed in white save lives? The hospital personnel didn't speak their language. They were asked to stay outside while the patient admitted was allowed to meet them only at a particular time. Accustomed to living in a community, the separation bothered them. They summarised their apprehensions in a telling pronouncement – "There's no 'God' in the hospital."
Our Goal
To provide compassionate, high quality, affordable, culturally appropriate, scientific and ethical medical care to the tribal and rural population of Gadchiroli as well as neighbouring districts.
Action
A participatory approach was adopted to allay the people's concerns and fears. After consultations with the tribal people, the construction of the tribal hospital commenced with a design resembling their own homes. When asked, the tribal people earnestly named the hospital as Ma Danteshwari Dawakhana after the supreme tribal Goddess Danteshwari. A temple of the tribal goddess Ma Danteshwari stands at the entrance.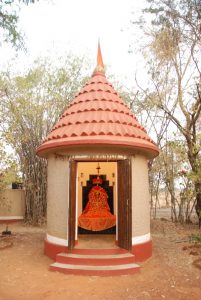 The registration room of the tribal friendly hospital resembles a Ghotul – an integral part of the tribal life and a place for the youth to gather for cultural activities and meet their partners. The hospital has 10 kutis, small hut-like wards, for privacy and the relatives to come, stay over and take care of the patients on their own. And, these kutis were built by the tribals themselves. All the structures in Shodhgram portray a medley of a tribal village and an ashram. The design and the architecture followed the tribal pattern. Even the walls of the building look like they have been patted with mud by hand.
To the Present
We have:
Outpatient care:
Primary & Speciality care
Inpatient care:
For illnesses needing hospitalisation
Surgical care
is Provided with the help of volunteering surgeons and anaesthetists in a well-equipped operation theatre
| Outpatient care and Primary care Surgical care | Speciality care | Surgical care |
| --- | --- | --- |
| Gynaecology and obstetrics | Urology clinic | General surgeries |
| Infertility clinic | Mental health clinic | Gynaecological surgeries |
| Internal medicine | Spine clinic | Paediatric surgeries |
| Neurology | | Urology surgeries |
| Dental care | | Plastic surgeries |
| | | Spine surgeries |
Other facilities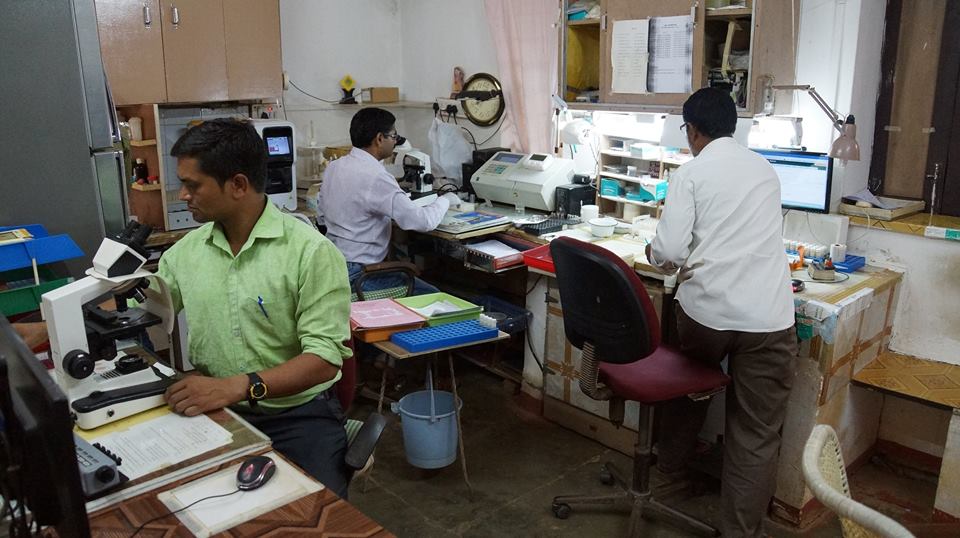 Pathology laboratory with facilities for cytology and histopathology in addition to other routine laboratory investigations and biochemical tests
A pharmacy selling low-cost generic medicines
Ambulance service which operates in remote tribal areas
Training local manpower
SEARCH trains local youth as
Nursing assistants
Laboratory assistants
Our Endeavours:
More than 3 million outpatient consultations in the last 14 years
More than 34,000 outpatient visits annually
Over 3300 surgeries since 2003 (Gynaecological surgeries, General surgeries, Paediatric surgeries, Urological surgeries, Spine surgeries, Plastic surgeries)
In-house pharmacy selling low-cost generics
Availability of pathology lab
Honorary Consultants and Surgeons
A large number of eminent doctors throughout Maharashtra voluntarily provide their services to the people of Gadchiroli through the SEARCH hospital.
Doctors providing voluntary services in the SEARCH hospital.
If you are interested in volunteering your services at our hospital, kindly contact us at search.gad@gmail.com
Dr. Rani Bang:
Gynaecologist, Obstetrician and Co-Director of SEARCH.
Read more
Dr Yogeshwar Kalkonde:
works as a consultant in Medicine and Neurology and provides clinical care. He also Leads the team of Research on the Non-communicable diseases. He is trained in internal medicine at Government Medical College, Nagpur and has a Master's degree in Clinical Investigation from the University of Texas, San Antonio, USA. He is trained in neurology from the Baylor College of Medicine, Houston, Texas, USA and is a Diplomate of the American Board of Neurology. He has worked as a faculty in the Department of Neurology at the Baylor College of Medicine before joining SEARCH. He is a recipient of the Wellcome Trust/DBT India Alliance's intermediate fellowship in public health.
Dr Vaibhav Avdumbar Tatawar:
Medical Officer, Hospital Administrative Officer, Camp Organiser.
Dr Chetna Soyam:
Dentist and Oral Health Officer. She is extensively involved in field visits, oral cancer screening, deaddiction counselling for tobacco products, oral and dental health camps, assisting in surgery camps and is studying oral health behaviour and practices among tribal population of Gadchiroli. Before joining SEARCH, she has worked in Indian Air Force, Ashwood Australian Memorial Hospital, Pune and also was a private practitioner.
Dr Priyanka Kale
, Medical officer (B.A.M.S.)
Dr Datta Bhalavi
, Medical officer (B.A.M.S.)
Dr MAyuri Bhalavi
, Medical officer (B.A.M.S.)
Sunanda Tushar Khorgade
is a counsellor for patients with sickle cell anaemia, HIV AIDS patients, nutrition for pregnant women, parents of malnourished children, infertility couples, newly married couples and addicts. She has been involved in research subjects such as medical termination of pregnancy, Sex Determination, Cu T and vasectomy and tubectomy failure. Her earlier work profile consists of Chief Trainer of ICDS workers and trainer of Sahyogini at Mahila Arthik Vikas Mahamandal.
Jaya Balvant Surve
ANM, Nurses and OT Incharge
Varsha Lade
, ANM
Nursing Assistants
Daro
Ranjuta B. Dey
Usha C. Pudo
Reshma Remaji Barsagade
Pushpa Gurudas Mangar
Jaivanta Ashok Kallo
Lalitu Devaji Atla
Ranjuta Antaram Tulavi
Saraswati Vasudev Pada
Ravindra Raghunath Bhusari
Laboratory Incharge and Laboratory Technician
Prakash Giridhar Raut
Assistant Laboratory and X-Ray Technician
Prabhakar Vitthal Umargurundawar
Assistant Laboratory Technician, Post-Operation Assistant
Sanjay Devidas Daradmare
Assistant Laboratory Technician
Rohit Sakhare
Registration and X-Ray Technician
Avinash Kumar
Registration and Accountant