Need

One accurate measurement is infinitely superior to a thousand intelligent opinions….
Murphy's Law
Believing in "Research with the people", research has been an integral part of every programme of SEARCH beginning with identification of a problem to the development of the programme with continuous monitoring and periodic evaluation for course correction and to determine effectiveness of the programme undertaken.
Action
Monitoring and Evaluation (M&E) System was established in 1989, to capture required data for the research in the area of action of SEARCH comprising community-based and hospital-based data.
134 villages
4 blocks
covering a population of nearly 110,000
The work includes
Developing questionnaires for collection of data, piloting them and finalising them
Training personnel for collection of data
Cross checking the data so collected
Data entry, data cleaning
Analysing the data
Archiving the data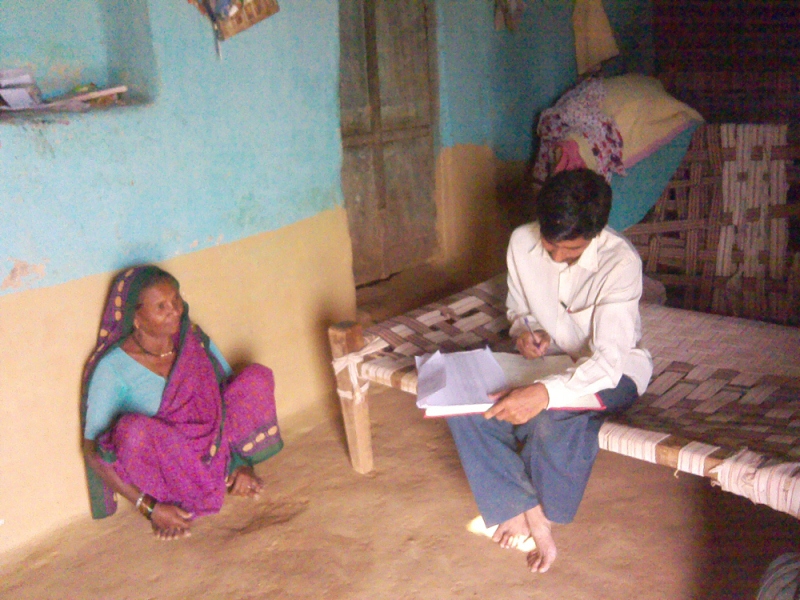 The data quality is maintained by elaborate monitoring of the data management activities at each stage at two levels (Supervisor level when they collect data from the field with various checklist and other at coding and entry level).
For example, the vital data (quantitative data concerning population, such as the number of births, the number of deaths etc.) for 134 villages in the research area of SEARCH has an accuracy of 99.9% and is one of the very very few community-based data of its kind in the world beginning 1988 to date. The unearthing of hidden child mortality in the state of Maharashtra through a child death study in the state of Maharashtra was instrumental in shaping the child health policy in Maharashtra. The evidence created by way of meticulous data collection and analysis in the Home Based Newborn Care programme and its replication in the state of Maharashtra under the ANKUR project was instrumental in successfully influencing the policy nationally and internationally.
The relevant parts of M&E system of SEARCH have been transferred to other NGOs and national level trainers for implementing HBNC in India and also organisations in other countries such as BRAC in Bangladesh.
At local level SEARCH has well-trained 48 tribal and 39 non-tribal Village Health Workers, and their supervisors.
Presently our endeavours
Creating a paperless system of data collection, storage and management
Application of Demographic Surveillance System
Analysis and evaluation of Non-communicable Diseases
Mahesh Digambar Deshmukh joined SEARCH in 1995, in the capacity of Deputy Director and Project Coordinator for Monitoring and Evaluation, and ever since has become a valuable stalwart to the organisation and the department. He monitors demographic, research and intervention data of villages, along with the male village health workers and the members of his team. Co-author of more than 20 research papers, he has been a great coordinator and trainer to the projects like Hidden Child Mortality in Maharashtra, ANKUR, training of ASHA, producing training material for them. Most of the computer programmes installed in SEARCH are his handiwork.
Kamalkishore Jayramji Khobragade is working as data entry operator and creates new programmes of forms for data entry. He has in his capacity also contributed to SEARCH by means of his involvement in the ANKUR project, the alcohol surveys as a trainer and a supervisor, PDS (Public Distribution System) and movement against alcohol as an RTI activist. He is a motivation to his colleagues, a writer and poet and has published on social subjects in newspapers.
Umesh Pandhurang Jadhav earlier an IT engineer, joined SEARCH as Assistant Statistician. His prime responsibilities include data management, evaluation in Rural Chronic NCD Research Programme, maintaining data consistency, primary data tabulation and analysis, managing database, tablet-based data collection tools, supervision and assisting in field level staff training and field Work. He is an occasional writer of articles and poems and an equally skilful sportsman.
Hritgandha Ashok Deshmukh a software engineer in SEARCH since 2013, is a MCA graduate, associated with programme development and maintenance of software and hardware, system training, implementation of new system management ideas, and field visits to understand and monitor the quality of data.
Ramdas Kawduji Bangare is a data manager since 2000. Prior to that, he was a trainer in MAHAN; voluntary auditor for 'GRAMKOSH;' and for 5 years he has worked as an Arogyadoot at SEARCH.
Niteshwar Pushpadas Lade a data entry operator, and an expert in time management became a part of the department in 2007. He has received training in Foxpro.
Mangla Dnyaneshwar Patil joined SEARCH in 1996 and is also a data entry operator, working in Maa Danteshwari Hospital. Her share of work includes maintenance of sonography information and data entry of Janani Suraksha Yojana, malaria with sickle cell, cancer information, information on Medical Termination of Pregnancy, causes of widowhood and sterility.
Surama Manjari Behera  Joined SEARCH in June 2016 as an  IT Research Programmer, She Develops & maintains android and PHP based application. She has completed Masters in Technology in Computer Science & Engineering.
Bholesh Banduji Madavi proved more than an asset as data entry operator since 2010 and his responsibilities include coding, data entry, recording logbook and assisting in VHW training.
Anandrao Pandurangji Dudhabale Presently a Chief Supervisor, he had joined SEARCH in 1988 as Village Health Worker and later was promoted to a supervisor. He plans, organises, and trains Village Health Workers, other supervisors and for surveys. He played a vital role during the movement against alcohol by arranging camps for women and implementing a ban on alcohol in his village. He was elected as Member of the Public Distribution System in his taluka.
Charandas Gangaramji Sahara joining SEARCH in 1990 as a Village Health Worker and later was promoted to be a supervisor. His responsibilities include supervisingVillage Health Workers, planning and organising workshops for them, and examining ANC-PNC forms of female village health workers. He encourages people from villages to visit the hospital for checkups and has been a great help on the field to various departments of SEARCH.
Subhash Ganaji Bodhankar also  joined as a Village Health Worker in 1997, moved on to be a field supervisor.