Mental Health
The burden of Alcohol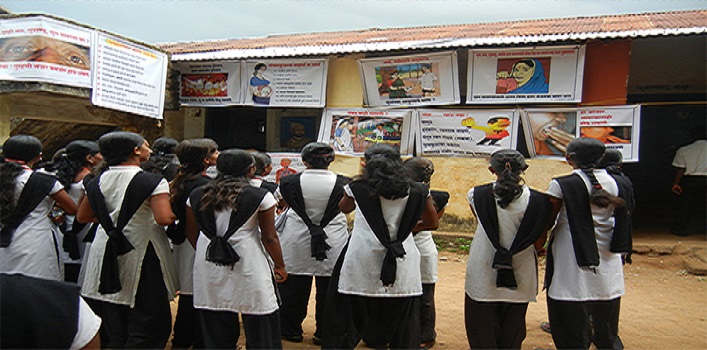 Our village meetings brought out a very painful reality. Yes, there were health problems. But, there was something else looming – the consequences of alcoholism. The toll the men's drinking took on women was frightening. Women began to pour their hearts out. Their lives were nearly ruined by this scourge – financial crises to the point where even their basic needs were not met, domestic violence, fights – the list didn't end. They reached out to us though this issue was much beyond healthcare and we had to respond.
A 'Liberation from Alcohol Movement' (1987-93) commenced, and built slowly to a mass movement with throngs of women and youth in 150 villages, 336 local social organisations, police patils, Sarpanchs, youth organisations, Mahila Mandals, NGOs like Gurudev Seva Mandal, and some MLAs. The movement succeeded in mobilising the district through the creation of District Darumukti Sangathan, District Darumukti Parishad, taluka and village level meetings, signings of petitions in Gram Sabhas, villages declaring internal prohibition, and patrolling, eventually culminating in declaration of prohibition in Gadchiroli, on 27th March, 1993, by the Government of Maharashtra. We started conducting intensive 12-day deaddiction camps, first on campus and then 3-day village-based as well. These camps involved medical detoxification, individual and family counselling, group therapy and follow-up. More than 4,000 addicts were treated and on an average, this approach succeeded in turning about 55% of them sober. While these small milestones deserve to be celebrated, the battle against alcohol itself is far from over, as a recent survey in 2015 by SEARCH revealed that the people of the district still spend Rs 79 cr on alcohol.
The rise of Tobacco
In 2009, SEARCH conducted a sample survey of the Gadchiroli district and found that 50% of district population consumed tobacco and spent about Rs 73 cr on tobacco products. The primary ill-effects of tobacco consumption are now visible on a very high scale in Gadchiroli. Various forms of tobacco such as kharra, ghutka, gudaku, snuff and plain tobacco are cheap, easily available and consumed rampantly. The tobacco habit is a socially accepted practice and even a social norm in some places. Unlike alcohol, women and children are also regular consumers of tobacco. Recognising the potential consequences, the Government of Maharashtra banned the sale of gutkha, scented tobacco in 2011 but this has not had the desired effect. As per the latest survey SEARCH conducted in 2015, the prevalence of tobacco consumption has increased to 60% and tobacco expenditure in one year has gone up sharply to Rs. 260 cr, an abnormal amount for a district with less than 11 lakh population.
Limitations
Tobacco and alcohol are known to be two of the top 3 risk factors causing diseases and deaths globally. In a backwards district like Gadchiroli, these form a powerful barrier to economic development as well. The potent COTPA Act against tobacco and the existing ban on alcohol have not been matched by effective enforcement on the ground – illegal sale and purchase are widespread.
SEARCH has been experimenting with awareness and health education approaches targeting certain demographics such as women and school-going children. A School Awareness Programme for tobacco deaddiction was organised from 2004 to 2012 where an average of 33% of the students used the product. We realised that motivation from teachers played a huge role in tobacco cessation. A project called "Women's Empowerment by Liberation from Tobacco" (We LifT) was also organised for a year (2012-13) in the Self Help Groups of Mahila Arthik Vikas Mandal (MAViM), to reduce the tobacco intake of the women, and thereby improve health and finances. Muktidoots (Community Health Workers) were selected from the group for home visits, discussions, counselling, and medication.
It is, however, fast emerging that no one approach is effective by itself in bringing about the desired change in a group of users and addicts. A multipronged people-led approach is required to make a dent in this problem.
Muktipath
SEARCH and the District Administration of Gadchiroli initiated a consultative process in 2014 which culminated in the development of a district level plan to control tobacco and alcohol. The Government of Maharashtra subsequently endorsed this initiative, christened 'Muktipath', and constituted a state level Task Force under the chairmanship of the Chief Minister, with Dr Abhay Bang as Advisor, and a District Committee under the Collector to implement this initiative, in partnership with the Tata Trusts.
Muktipath's goals are to create awareness and a social environment against alcohol & tobacco, to reduce the availability, demand and use of these harmful substances, treatment of the addicts and the affected people, thereby to improve health, economic growth, law and order in the district as well as increasing women's safety and empowerment. The Programme aims at aiding the establishment of a permanent administrative and public support system for this cause as a replicable model which can then be taken to other parts of the country especially those which carry a significant health and/or economic burden attributable to alcohol or tobacco consumption.
Muktipath will follow a five-pronged approach to achieve its goals
Community mobilization through the creation of village level committees which would comprise all the influencers and decision makers in the village system
Enforcement of prohibition and better implementation of COTPA ( Cigarettes and Other Tobacco Products Act )
Mass awareness campaign to reinforce people's knowledge of the ill effects of consuming alcohol and tobacco
Deaddiction programmes to handle and transform addicts
Creating alternate recreation avenues such as sports
---
Tobacco prevention and harm reduction program:
Work with school children
SEARCH has been engaged in tobacco de-addiction of school children since last about 16 years across eight blocks in the district through the organization of camps, rallies, audio-visual presentations, exhibitions in schools and colleges in the district. Till date, the team has provided counselling to about 52,059 students in nearly 60 schools.
Work with Women's Self Help Group Network
Maharashtra Arthik Vikas Mahamandal (MAVIM) which facilitates the formation of SHG groups and their functions in the state of Maharashtra and SEARCH have collaborated with each other since 2011 for tobacco de-addiction amongst women of SHG groups. After an initial pilot, a project for the period of 16 months covering 3 CMRCs and ending in June 2013 was conducted. The major interventions were through trained Muktidoots selected from amongst the SHG groups and supported by Sahayoginies and managers of the respective CMRCs.
This programme was extended with some limited interventions to boost the effect of the intervention till June 2013. This booster programme will end in June 2014.