SEARCH model for reducing infant mortality throughout India and 12 other countries: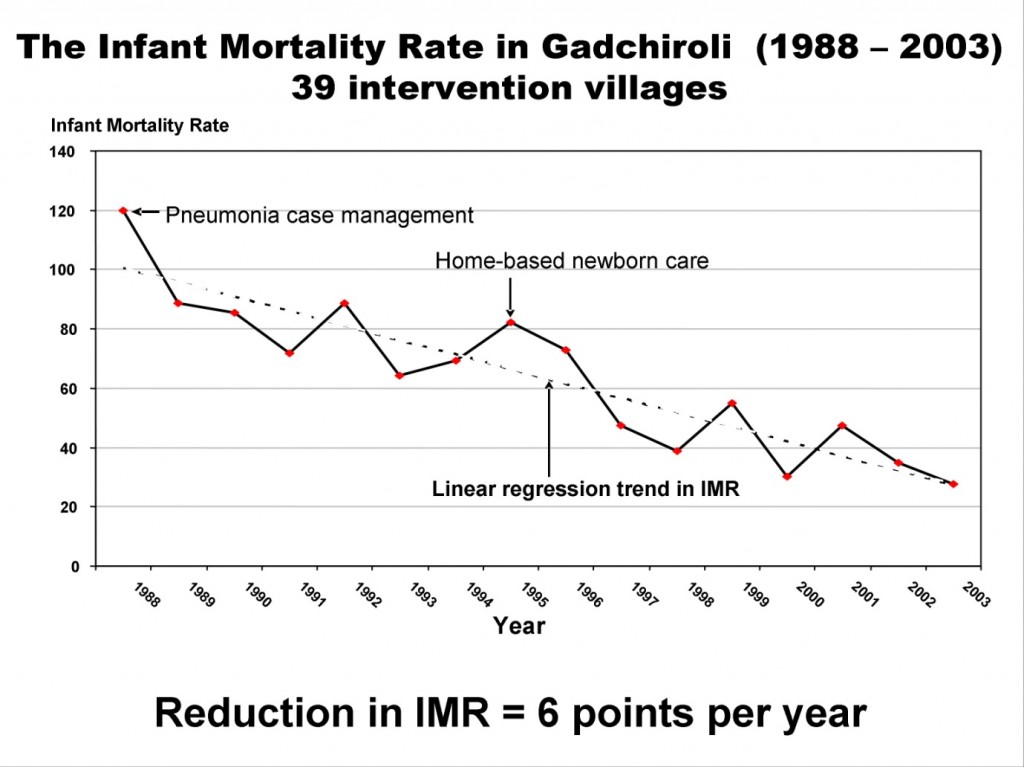 By developing an approach of training a village health worker to provide Home-based Newborn and Child Care (HBNCC) at home, it was seen that it could reduce the infant mortality to the level of 30 from the baseline of 121. This approach was celebrated by the Lancet as the
Vintage Paper in the Lancet
, thus receiving global recognition that changed the newborn care policy in several developing countries. THE ANKUR project (2001 to 2006) conducted in the state of Maharashtra by SEARCH and its 7 NGO partners achieved a 51% reduction in IMR. Also the study conducted by ICMR in 5 states of India proved that the HBNC model was replicable and that community health workers could be successfully trained to provide HBNC. The results of ANKUR project, the conclusions drawn from ICMR study as also the successful replication efforts in Nepal (MINI project); Bangladesh (Prajhmno project), Pakistan (HALA project) and other successful adoptions of HBNCC resulted in acceptance of newborn care by community health workers nationally and internationally. Thus, a joint statement was issued by WHO, UNICEF and Save the Children US recommending newborn care by community health worker wherever necessary. Currently HBNCC is part of India's National Rural Health Mission, the 11th and the 12th Five Year Plan as well as endorsed by WHO – UNICEF – USAID – Gates Foundation and supported by the Johns Hopkins University and Save the Children as a global policy. The Government of India under NRHM made HBNC a part of module 6 and 7 of training of ASHAs, the community health worker cadre created in India to enable them to provide HBNC services. Thus, 800,000 village women in India were trained by the government under the ASHA programme. India incorporated this model in the 12th national five-year plan to reduce infant mortality. Research in HBNC has been replicated in action across Afghanistan, Bangladesh, Eritrea, Ethiopia, Kenya, Lesotho, Madagascar, Malawi, Nepal, Uganda, Yemen and Zambia. For reading:
Shaping alcohol and tobacco control policies
The District Planning and Development Committee's budget for Gadchiroli, in 1988, was 14 crores, diminished by the results of a sample survey done by SEARCH, showing an expenditure of 20 crores in that year. Consequently, in 1990, the couple launched a movement, on public demand, that resulted in ban on alcohol in Gadchiroli district, in the year 1992. It was the first example in India of liquor ban due to public emphasis. In May 2012, Dr. Abhay Bang was member of panel to study ban of Liquor in Chandrapur district. Chandrapur banned alcohol in April 2015. A sample survey conducted in 2015 by the organisation showed that the district spent about 340 crores on alcohol and tobacco. In the dawn of prohibition, and social awakening in various states of India, a state level task force has been constituted under the chairmanship of Chief Minister Devendra Fadnavis, to effectively implement the ban on alcohol and tobacco, and create awareness against the rising ill-effects of their consumption in Maharashtra. The unprecedented Government Resolution was passed on January 4, 2016. Dr. Abhay Bang is advisor to this task force. A social experiment is to start in the district of Gadchiroli, by a district level committee under the chairmanship of the Collector, Shri. Ranjit Kumar. For reading:
India: Action against sale of alcohol.
The Lancet. 1992 Sep;340(8821):720.
Women's Issue
Dr. Rani Bang conducted community based study of gynaecological problems in rural areas of Gadchiroli, in 1988, which came to be the first study in the world focusing on women's health beyond maternity care. Some of the common gynaecological complaints (Out of 650 participants) were vaginal discharge (13.5%), burning on micturition (9.2%), childlessness (5.5%), profuse (4.9), irregular (6.9) or scanty periods (12.6), amenorrhoea (20.3), dysmenorrhoea (15.1) and dyspareunia (6.6). A programme on Women's Reproductive Health was developed in 1989, by training the Traditional Birth Attendants (
Dai
). Working at grassroots with tribal women, a change was brought about in the global policy at Cario, (1994) – From Population Control to Women's Reproductive Health, thus setting a great example of "Think locally, act globally." For reading:
'Women's perception of white vaginal discharge: Ethnographic data from rural Maharashtra'
in Gittelsohn J, Bentley ME, Pelto PJ, Nag M, Pachauri S, Harrison AD et al (eds) Listening to Women Talk About their Health: Issues and Evidence from India. New Delhi; Ford Foundation: 79-94.
Pneumonia management field trial (Under five child mortality reduction)
SEARCH achieved reduction of pneumonia specific case fatality through diagnosis and treatment of pneumonia in <5 children by trained Community Health Workers, as per diagnosis and treatment protocol developed by SEARCH
published in the Lancet, (1990).
From a value of 13.5% in 1988, the pneumonia case fatality was reduced to 0.8% within two years and has been pegged down at that level till now. The IMR reduced from 121 to 79 (1990), thus becoming a major evidence for shaping the global ARI control program in 77 countries (1992). Around 80 village health workers and 120 traditional midwives have learnt to diagnose and treat major killers such as neonatal sepsis and infant pneumonia. Even illiterate village midwives can now count the respiratory rate of a child and diagnose pneumonia using a 'breath counter' improvised from a simple abacus by Dr. Abhay Bang. For Reading:
Management of childhood pneumonia by traditional birth attendants. The SEARCH Team.
Bull World Health Organ. 1994;72(6):897–905.
Hidden Child Mortality
(as Human Rights Issue)
SEARCH has relentlessly taken up Child Death as a human rights issue. The underreporting of child deaths by the health system of Government of Maharashtra was exposed by SEARCH through a study in 13 sites in Maharashtra. The report was first published in November 2001 in Marathi, aptly titled "Kovli Pangal" and later as a scientific paper in Economic and Political weekly (December 7, 2002). The partners of SEARCH in this study were members of the Child Death Study and Action Group (CDSAG). This had reverberations in the Maharashtra Health Assembly and forced the Government of Maharashtra to promise action and finally appoint a committee to study the problem of Child Deaths and Malnutrition in Maharashtra, under the chairmanship of Dr Abhay Bang, Director, SEARCH. This committee submitted a report bringing out the true status of the problem and suggesting remedial action. The study on underreporting of child deaths in Maharashtra was later published under the title "Hidden Child Mortality in Maharashtra" in 2006 with a foreword from the then Registrar General of India which was a tacit admission by him that underreporting was not only a  reality of Maharashtra but probably was a nationwide phenomenon. Advocacy based on evidence and untiring efforts of SEARCH in projecting this issue in national and international for a finally resulted in Governments accepting solution offered by SEARCH in India (The module 6 and 7 of ASHA training and abroad as exemplified by acceptance in Ethiopia. For reading:
Change in Ethiopian child mortality policy
Pneumonia, one of the major reasons of child mortality in Ethiopia was contributing to neonatal and child deaths in the world as well. It, too, faces the problem of overall backwardness and superstition among its population. November 2009, the Ethiopian government sent a team of senior government health officials and programme managers to SEARCH for five-day training. In the past, their government was reluctant to allow local women, even trained those to be Health Extension Workers (HEW), to use antibiotics to treat pneumonia in children. But, the stay at SEARCH convinced the politicians for this change. The outlook changed. Their national health director triggered the launch of a Community Case Management programme to treat pneumonia in children with the help of HEWs. For reading: