Visitors are welcome, preferably by prior appointment.
SEARCH can provide lodging and boarding facility for a limited number of persons at nominal rates at Shodhagram, the Head Quarter Campus of SEARCH. The vegetarian food and simple accommodation provided to the visitors is modest. For special needs on account of health, SEARCH will try to make suitable arrangements but otherwise, the food will be same as that served to all others. Self-service is the motto of SEARCH and the guests are requested to cooperate with SEARCH.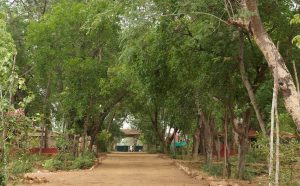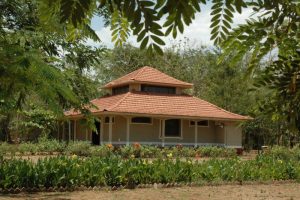 The visitors are requested to refrain from smoking and consumption of alcohol or any other intoxicant while with SEARCH. We consider the visitors as members of the SEARCH community living in Shodhagram and hence they are invited to participate in the community activities such as daily "All religion prayer" in the evening and biweekly contribution of manual labour to keep the campus clean. The visitors are requested to contact SEARCH and inform the purpose of visit, a number of persons in the group, specific topics of interest and number of days of stay proposed. This will enable SEARCH to plan the visit for maximum benefit to the visitor without disrupting the day to day work of SEARCH.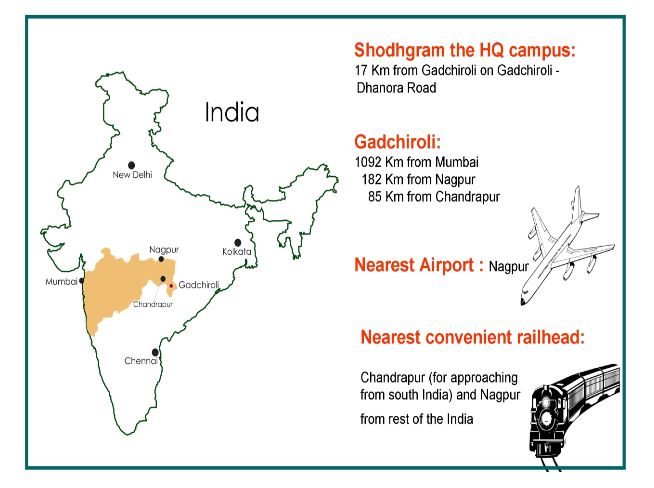 HOW to reach SEARCH?
The nearest railway stations are:
Chandrapur
(100 km) – Trains from Hyderabad, Chennai, Banglore & New Delhi stop here.
Nagpur
(185 km) — Train from Mumbai, Pune, Kolkata, New Delhi stop here From Chandrapur or Nagpur, Regular Buses are available for Gadchiroli town, district HQ. Shodhgram Shodhgram, SEARCH is located 17 KMs from Gadchiroli on Dhanora road. You can contact
 +(91) (7138) 255407
or write us at
search.gad@gmail.com
Please, fill your details: